10 or 20 weeks of bountiful, fresh, organic, hyper-local vegetables!
Pick-up at our Farm Store in the NCC Greenbelt, between Bayshore and Kanata North.
Choose your pickup time (Thursdays or Saturdays) for the June-October season when you sign up.
Be in and out quickly, or visit the farm and surrounding nature.
Savour diverse, seasonal produce, curated for you by your farmers.
Swap any unwanted items for produce you'd prefer: use the express exchange box or peruse the farm store.
Receive tips from the farmers and recipes in your inbox.
Benefit from access to on-farm events and to the private CSA Facebook group.
Add-on a one-time-pickup mid-November "Winter VegBox CSA" containing about 8+ different produce items.
By purchasing a VegBox CSA membership, you are agreeing to our CSA Terms and Conditions. They contain important info about limitations on vacations, missed pickups, etc.
If you would like to request a payment plan for your VegBox, please e-mail us directly.
When purchasing, please use the email address to which you would like to receive CSA communications.
* 2% discount applied to Interac E-Transfer, cheque and cash payments !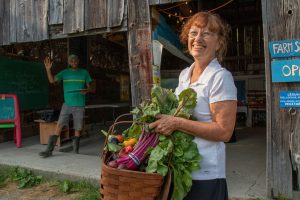 "Going out to your farm each week for fresh veggies is something I really looked forward to. The selection and quality of your produce is excellent. So happy to be able to eat local."
Barb Conway
Photo: CSA customer Sally Plant leaving the farm store smiling with her vegbox in hand. Farmer Scott waving in the background.