10 or 20 weeks of friendly farm pick-ups;
A wide selection of the freshest local fruit and veggies, including apples in 2024;
Weekly recipes & storage tips from the farmers sent directly to your inbox;
Access to the private CSA Facebook group — a community of foodies all eating the same food each week, and supporting each other in the process;
Vegetables that were grown by following the Canadian Organic Standards;
Hay-rides, bon-fires and workshops galore for 2024!
Add-on our optional 2- or 4-week CSA extension and/or an egg-share option.
FALL EXTENSION: The size and frequency of the fall extension will be the same as your summer Vegbox CSA. For example, a bi-weekly extension = 2 more boxes and a weekly extension = 4 more boxes.  This item is available as an add-on at the time of summer CSA purchase by selecting "yes" in the last drop-down menu.
EGG SHARE: Egg Shares can be added to your cart by going here. They are a limited time offer for CSA members, so add it to your cart now!
By purchasing a VegBox CSA membership, you are agreeing to our CSA Terms and Conditions. They contain important info about limitations on vacations, missed pickups, etc., so please take a read. 
If you would like to request a payment plan for your VegBox, please e-mail us directly and we will send you the dates and amounts. Fee = $20.
When purchasing, please use the email address to which you would like to receive CSA communications and save the address CSA-ASC@beetbox.ca to your contact list.
* 2% discount applied to Interac E-Transfer, cheque and cash payments !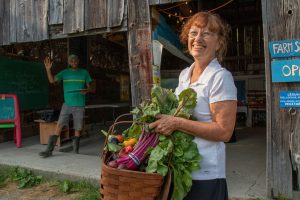 "Going out to your farm each week for fresh veggies is something I really looked forward to. The selection and quality of your produce is excellent. So happy to be able to eat local."
Barb Conway
Photo: CSA customer Sally Plant leaving the farm store smiling with her vegbox in hand. Farmer Scott waving in the background.