Core Philosophy
The VegBox is based on a popular model called community-supported agriculture (CSA). It's a Partnership between the Members (that's you!) and the Farmers (that's us!).
Members support their farmer by sharing in the inherent risks of agriculture and its rewards. And, the farmers commit to producing the highest quality food following organic growing practices.
1
Choose the perfect VegBox for you
2
Sign up online and pay upfront for 2021
3
Pick up at the farm store from June until October
4
Enjoy the great selection of fresh veg!
What's in the box?
Savour a diverse, seasonally-changing selection of organic produce, curated for you by your farmers. You will get some special items, grown just for VegBox CSA members, along with lots of our most popular items. For examples, look at these photos of past weekly VegBox contents:.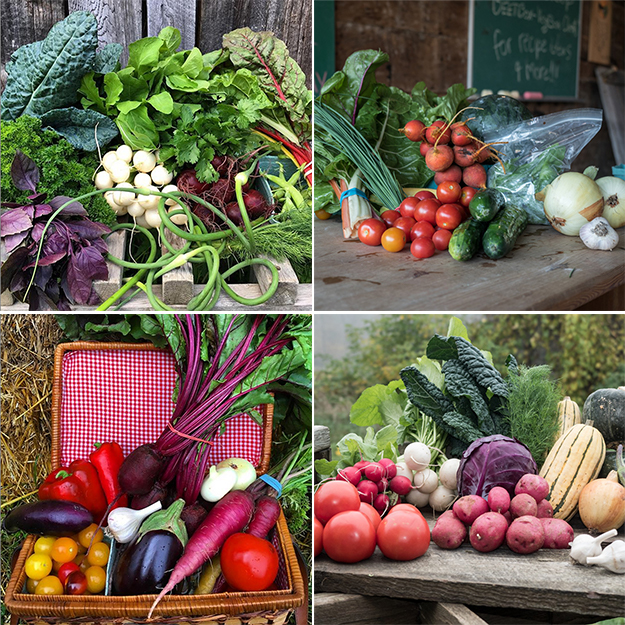 See something that's not for you? Don't despair!
Since you're picking up at the farm store, you can swap any unwanted items for produce you love!
In our weekly newsletter, we'll also help you learn to prepare all of the great vegetables our region has to offer.
PICK UP AT THE FARM STORE
Choose your pickup time for the season:
Thursdays
3:30 – 6:00 PM
OR
Saturdays
11:00 AM – 2:00 PM
230 Davidson's Side Rd, Nepean
Bring your own box and bags when you come pick up.
Buy more of your favourite vegetables, and some BeetBox preserves, at the farm store.
Relax outdoors, visit the chickens, walk around the farm, have a picnic, or take a stroll to the Ottawa River.
Change of Plans?
No problem, we've got you: Switch your pick up time, skip a week, send a friend, or we can donate your veg to the food bank for you.
CSA Member Benefits
All CSA members enjoy these benefits:
A wide selection including your favourites and artisanal new varieties

Weekly tips from the farmers sent directly to your inbox.

Weekly recipes to make the most of your box

Access to the private BeetBox Facebook group — a community of foodies all eating the same food each week, and supporting each other in the process.

Vegetables that were grown by strictly following the Canadian Organic Standards

VIP access to on-farm events.
Weekly BOXES
(18 weeks total)
bi-Weekly BOXES
(9 weeks total)
Join our community of eaters