The VegBox CSA
Delicious, fresh, hyper-local vegetable boxes for West Ottawa/ Nepean / Kanata.
See how the CSA works!
Our CSA Core Philosophy
The VegBox is based on a popular model called community-supported agriculture (CSA). It's a partnership between the Members (that's you!) and the Farmers (that's us!). Members support their farmers by signing up in the winter for a seasonal subscription. And, then the farmers commit to producing the highest quality food for members each week from June to October. And everyone commits to eating amazing & healthy local food!
Join the WaitList to get an advanced invite to sign up this January. 
1
Choose the perfect VegBox for you
2
Sign up online and pay upfront
3
Pick up at the farm store from June until October
4
Enjoy the great selection of fresh veg!
What's in the box?
Savour a diverse, seasonally-changing selection of organic local produce, curated for you by your farmers. You will get some special veggies, along with lots of our most popular classics. Here are some past weekly CSA VegBoxes: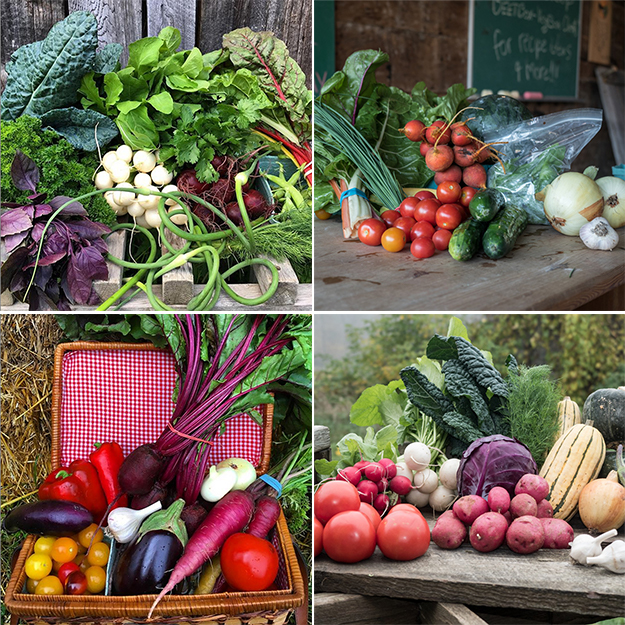 See something that's not for you? Don't despair!
Since you're picking up at the farm store, you can swap any unwanted items for produce you love (use the express self-serve exchange bin, or exchange for any veggie in the farm store).
In our weekly newsletter, we'll also help you learn to prepare & cook all of the great vegetables our region has to offer. This is a journey in seasonal local eating and we are here every step of the way.
Plus our urban farm is just down the road in Ottawa's greenbelt: a nourishing oasis awaiting you and your family each week. You can't get food that's more local than that! 
 Is CSA Right For You?
It's not for everyone and that's okay!
Check out our free e-book: 6 Questions to Ask Before Joining a CSA!
Choose your pickup time for the season:
Thursdays
3:00 – 6:30 PM
OR
Saturdays
10:00 AM – 1:00 PM
 230 Davidson's Side Rd, Nepean
Bring your own box and bags when you come pick up.
Buy more of your favourite vegetables, BeetBox prepared foods, plus other great local products at the farm store.
Enjoy the sunshine, visit the chickens, walk around the farm, have a picnic, or take a stroll down our path to the Ottawa River.
Change of Plans?
No problem, we've got you: Switch your pick up time/week, skip a week, send a friend, or we can donate your veg to the local food bank on your behalf.
CSA Member Benefits
All CSA members enjoy these benefits:
A wide selection of vegetables including your favourites and artisanal new varieties
Weekly cooking & storage tips from the farmers sent directly to your inbox

Weekly recipes to make the most of your subscription

Access to the private BeetBox Facebook group — a community of foodies all eating the same food each week, and supporting each other in the process.

Local vegetables that were grown by strictly following organic standards


Access to on-farm events just down the road
The CSA signup will open to the public again in January if there are any spots left. Get on the waitlist to hear about it first.
Weekly Summer CSA BOXES
(20 weeks total)
6-7 items / week

For 1-2 people who want only the freshest veggies

 

$38 per week *
8-10 items / week

For a family of 4, or 2 very hungry adults

$52 per week *
10-13 items / week

For a family of 4-6, hungry for even more fresh veggies

$71 per week *
* Price will be discounted by 2% if paid via Interac E-Transfer, cheque or cash
** Medium and large boxes include some larger veggie portions compared to the small boxes
bi-Weekly Summer CSA BOXES
(10 weeks total)
* Price will be discounted by 2% if paid via Interac E-Transfer, cheque or cash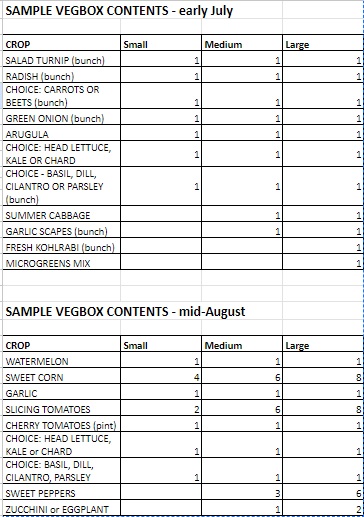 FALL CSA BOX EXTENSION
Are you ready to take your CSA to the next level? Extend the season until we close in late November. The size and frequency of the fall extension will be the same as your summer Vegbox CSA. For example, a bi-weekly extension = 2 more boxes and a weekly extension = 4 more boxes. Expect to receive a higher proportion of storage veggies combined with cool weather greens. The Fall boxes are perfect for extending the season into late fall and winter!
* Price will be discounted by 2% if paid via Interac E-Transfer, cheque or cash
Join our community of eaters