Community Farm
A community garden, but better, in West Ottawa/ Nepean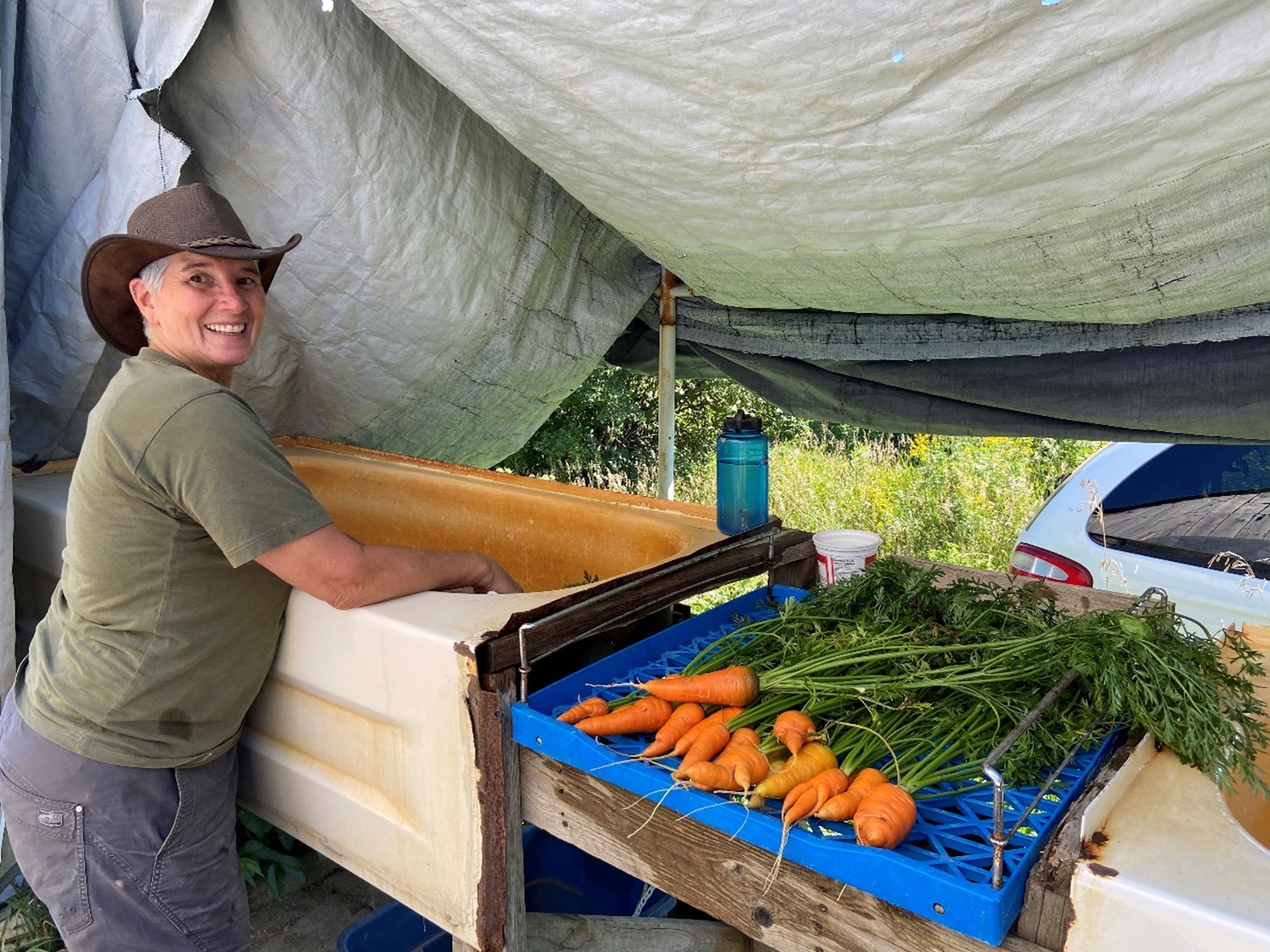 What is Community Farm?
Beetbox Community Farm was born out of the enthusiasm for growing food that welled up in our community early in the pandemic. The idea is simple: a coordinated group of gardeners with a little bit of planning, expertise, and land and equipment from the farm can produce A LOT more food than the same gardeners working alone.
 This community garden program provides the opportunity to build farming knowledge and meet awesome people while gardening together in a beautiful outdoor setting on the border of Nepean & Kanata. It also provides you with an abundance of fresh organic vegetables.
How It Works
Participants work a weekly or biweekly shift in our collective garden plot (a ½ acre) at BeetBox Farm. At each shift we plant, weed, and harvest crops under the direction of a coordinator.  We also work on shared projects with the horticulture operation at the farm. There is also the option to join the Special Projects team for more ad hoc projects.
Our garden plot is planned using the BeetBox CSA crop planning tool thereby giving us each a diversity of seasonal vegetables, fruits and herbs. Our garden relies on key farming infrastructure such as irrigation systems, a greenhouse for seedlings, and careful cover cropping and bed amending.
This program's strength lies in having participants at the plot weeding, watering, harvesting and taking care of our plants 6 days a week. By sharing the work and costs we can grow an enormous amount of delicious, organic food together, and we have fun doing it!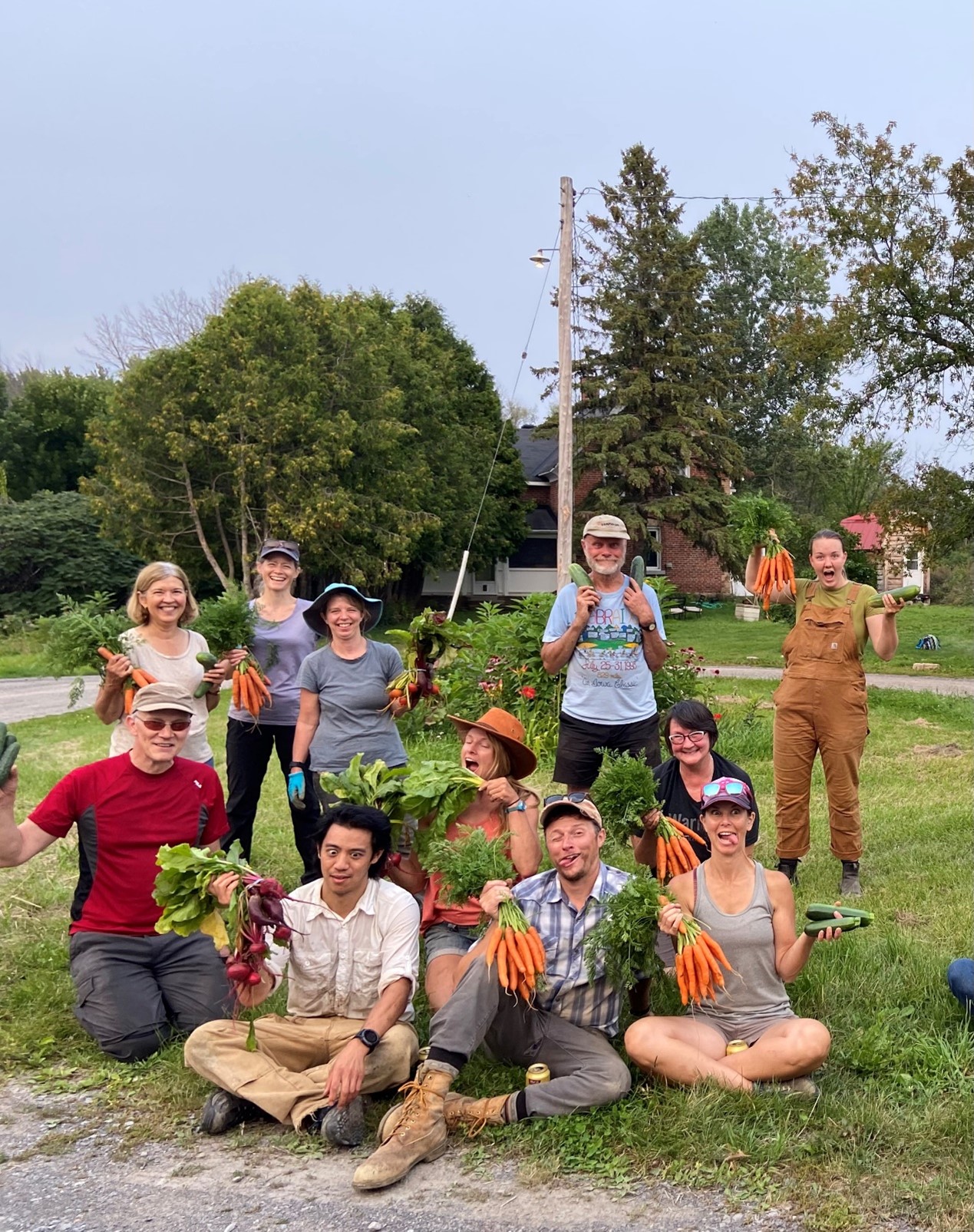 Feel good when you buy and eat healthy food from our west-end farm.
Choose from a wide variety of farm fresh fruits and vegetables
Calendar
turn into infographic like the one of VegBox CSA page "Vegbox Easy as Pie"?
The program runs from late April until mid-October.
In May participants prepare the fields, set up irrigation and begin planting seeds and seedlings. We begin harvesting our first vegetables in late June, and will continue to harvest, weed and plant throughout the summer. In the fall participants harvest fall crops and help prepare the fields for winter.
| | |
| --- | --- |
| May | Seedlings for your garden! |
| June | Leafy greens, salad mix, microgreens, radishes, green onions, spinach, lettuce, herbs… |
| July | Tomatoes, cucumbers, zucchini, green beans, leafy greens, lettuce, herbs, garlic scapes… |
| August | Tomatoes, peppers, eggplant, melons, cucumbers, zucchini, green beans, leafy greens, lettuce, herbs, carrots, beets, garlic… |
| September | Pumpkins, squash, tomatoes, peppers, eggplant, root veggies, cucumbers, zucchini, leafy greens, lettuce, onions, herbs… |
| October &  November | Pumpkins, squash, root veggies, tomatoes, peppers, leafy greens, spinach, lettuce, herbs… |
Home-Style Farm Preserves
Fresh from the Kitchen
Made in Nepean / West Ottawa by our chef with organic ingredients, the most important being vegetables from our farm.
Stock up on our yummy home-style canning, preserves, and prepared foods at the BeetBox Farm Store. Some examples include:
Spicy beans;

Pickles;

Zucchini relish;

Salad dressings;

Country ketchup;

More to come..
Hours and Location
Thursdays 3:30-6:30 and Saturdays 11:00-3:00
230 Davidson's Side Rd, Nepean
We are in the greenbelt between Nepean, Bells Corners, Crystal Beach & Kanata North.

Feel free to bring your family and visit the farm for a tour, see the chickens and enjoy the fresh air!

Directions, including bike directions found here.
Please bring your own bags or boxes to shop.
We Want to Help You Enjoy Local!
Our bi-weekly newsletter provides:
● Healthy and delicious recipes from your local BeetBox chef and farm crew
● News about when new veggies will be available in the store
● Tips and tricks on eating & shopping local
● Stories and pictures of the farm crew and animals