Need a break?
Need a break from the hustle & bustle of the grocery store? Looking to reconnect with the seasons? At our Farm Store you will find only the freshest fruits and vegetables picked perfectly ripe and ready for you to eat! We grow over 50 varieties of produce and make our own prepared foods and preserves just like your grandmother used to. We are at the store ready to answer your questions and swap recipes because… delicious and healthy food… that's what we are all about!
What's in season
Since we pick the vegetables right out of the field, the weather affects what's in season! Usually we will have bright juicy tomatoes by early July and watermelons in mid August, but it can shift a few weeks if we have a cold winter. BeetBox has several greenhouses which provide shelter so that our season is a lot longer than a home garden. Thanks to this we can start our seedlings inside and we can offer peppers, eggplants, basil and tomatoes into September!
Fresh From Our Kitchen
We love working with our own fresh, local organic produce and creating delicious recipes with it! For our CSA VegBox customers we send a new recipe every week. We also regularly include recipes in our newsletter.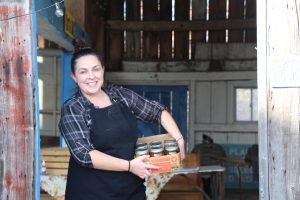 This helps our clients get creative with whatever is in season! In 2020 our resident chef, Jess, developed a delicious line of preserves and pickles! She is planning on expanding the line of prepared foods in the coming years, to include ready made meals for you to enjoy in the comfort of your home. You will find all of these in the farm store!
Hours and Location
Thursdays 3:30-6:30 and Saturdays 11:00-3:00
230 Davidson's Side Rd, Nepean
Just off Carling Road between Moodie & March rd.
Bring your own box and bags when you come pick up.
Relax outdoors, visit the chickens, walk around the farm, have a picnic, or take a stroll to the Ottawa River.