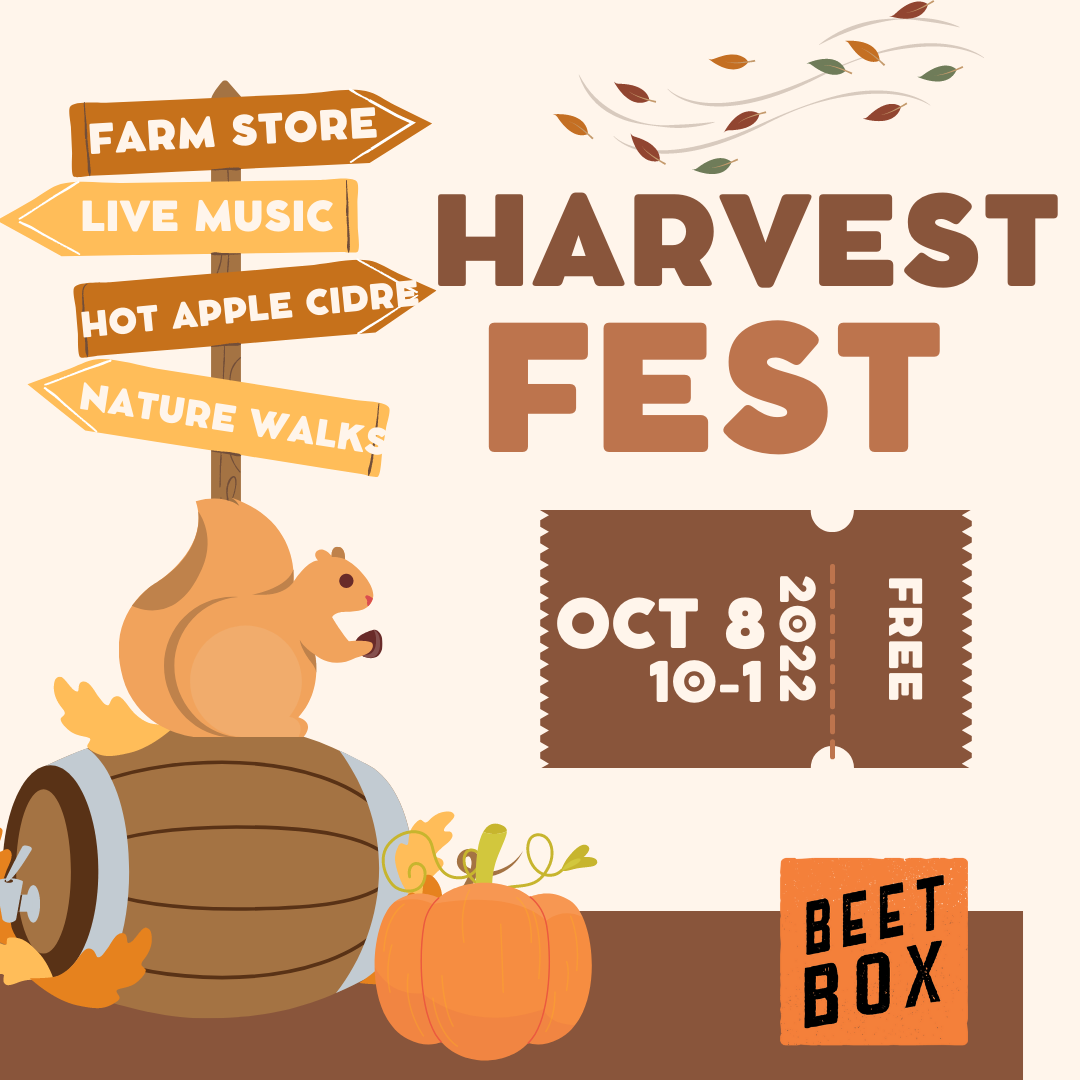 Harvest Fest
This Thanksgiving Saturday join us at the Farm Store for a special Harvest Celebration 10-1. While stocking up on veggies for your Thanksgiving feast, join us for some live music & hot apple cider & treats. Then take a walk & enjoy the colours of the farm and the forest.
*New items at the Farm Store
*Live Music
*Hot apple cider & donuts
*Nature walks
*Toddler play area
*Feed the chickens
*Pick up your Halloween Pumpkin
*Donate fresh veggies to the Kanata Food Cupboard!
Thanksgiving is the best time of the year on a farm- a time to give thanks & celebrate the harvest! Come join us this Saturday! 
Free
Saturday October 8th 10-1
BeetBox Co-op Farm
230 Davidson's side rd, off Carling ave between Moodie & March rd.
Rain or Shine Event
Schedule
10-12:30 Donuts & Apple Cidre
10-12:30 Farm Walks
11- 12 Roy van Hooydonk
(https://www.youtube.com/channel/UCw4ZYR-6jOpWKpcX8sXGKKQ)
——————————
Fête de la recolte
Ce samedi, joignez-nousà notre magasin de ferme pour une célébration spéciale de la récolte de 10 à 13 heures. Tout en faisant le plein de légumes pour le festin de l'action de grâce , rejoignez-nous pour écouter de la musique en direct et déguster du cidre chaud et des friandises. Ensuite, promenez-vous et admirez les couleurs de la ferme et du sentier de randonnée en automne.
*Musique
*Cidre de pomme chaud et friandises
*Promenades dans la nature
*Magasin de la ferme rempli de légumes, de pommes et des nouveaux produits
*Collecte de dons pour le banque alimentaire de Kanata